Supplies of Standard Configuration Supercomputers
As a rule, development of parallel computing system corresponding to customer's requirements is a project task implementation of which is connected to full cycle of works - from analysis of application environment and collection of initial data for development of the system to unique setting of the complex and development of its documentation.
Costs of full project cycle implementation are not always feasible. In most cases the customer faces tasks which can be referred to typical ones. That is why standard configurations of compact hybrid supercomputers can be used to solve these tasks.
To save resources of potential customers Open Technologies specialists created a range of standard configurations - cheap, highly reliable, balanced, and produced in the form of finished product. As distinct from unique solutions, using of standard configurations allows reducing costs of solution design and commissioning, preventing component incompatibility, minimizing costs of document preparation, reducing terms of supercomputer preparation for delivery to the customer and solving issues at the stage of technical support more quickly due to pre-developed procedures.
Standard configurations of initial level are listed in table below.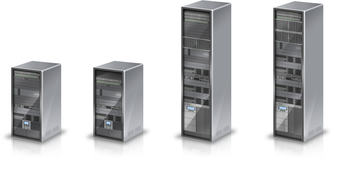 ENTER 8/10 
(8 GPU, 10 CPU)

ENTER 16/18 
(16 GPU, 18 CPU)

ENTER 24/26 
(24 GPU, 26 CPU)

ENTER 32/34
(32 GPU, 34 CPU)

Architecture

Hybrid cluster consisting of computation modes of standard architecture with GPU accelerators

Peak performance, TFlops

6.52

12.8

19.08

25.36

Number of CPU

10

18

26

34

CPU peak performance, TFlops*

1.2

2.16

3.12

4.08

GPU peak performance, TFlops*

5.32

10.64

15.96

21.28

Number of GPU

8

16

24

32

CPU memory, GB**

120/240

216/432

312/624

408/816

GPU memory, GB

48

96

144

192

GPU implementation

NextIO vCORE Express 2075/2090 (Fermi); Tesla K10/K20 (Kepler)

Interconnect

Gigabit Ethernet / Infiniband (option)

Energy consumption, kW (UPS of corresponding power included)

3.3

6.3

9.3

12.3

Storage system, type/capacity (option)

NAS, 10TB

NAS, 10TB

NAS, 20TB

NAS, 32TB

Construction

24U rack

24U rack

42U rack

42U rack

Software***

OS: Linux / Windows HPC Server 2008, 
monitoring and control system, application runtime and development environment
* Stated for 6 kernel Intel E5-2640 processors; processor type can be different
** Standard/advanced
*** Required software kit shall be specified upon order
It is necessary to remember that the supercomputer market is a very dynamic one. That is why Open Technologies solution portfolio is updated on regular basis. It is added by new products based on state-of-the-art components tested in standard configurations.
Benefits for the customer
Easy to introduce. Difficulty of configuration choice is minimized; when choosing the required product it is necessary only to follow the rules of manufacturer and take certain task peculiarities into consideration (a range of proposed options depend on these parameters). 
The system is supplied in the form of ready-to-work platform including all components necessary for operation and control - issues of integration into infrastructure are minimized.